The Sycamore Gardens play area, a stone's throw from Seven Sisters station, has been redeveloped after the previous rotting wooden sculptures and climbing frame began attracting anti-social behaviour. Concerned families on the Sycamore Estate, formerly a Jewish hospital and home for "incurables", were put at the centre of plans to overhaul the site, and worked on them with natural play designer and builder Max Mueller, from children's play space charity London Play. Mr Mueller said it was great to see the children enjoying the fruits of their labour. "Because they were so involved in the design, they really feel like they own it," he said. "Together we've made it so much more welcoming." This sense of ownership extends to the ongoing maintenance of the facilities, with residents having agreed to play a role in the play area's upkeep.The revived space features a carved bat with climbable wings, five-a-side football goals which were built by the children themselves, a rope tree swing, natural exercise equipment and log seating. The official launch saw music, dancing, face painting, giant bubble-making and, of course, lots of climbing and swinging.One of the residents said: "It's a really great space and in the summer you do get all the families out with their barbecues – this will make it even better used all year round and into a much more sociable space."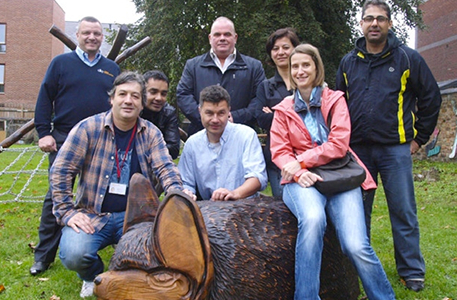 London Play was approached to develop the play area by Circle 33 Housing Trust, which manages around three quarters of the properties on the estate.
It was funded by Chigwell Construction and housing associations Circle 33 Housing Trust and L&Q, as well as London Play.
Article taken from Tottenham & Wood Green Journal, Written by Stephen Moore, Pictures: Tony Gay