The Chigwell Group of companies, a private UK-based construction products and services concern, is in acquisition talks to diversify its operations, founder and Managing Director Dean Floyd said. It is interested in hearing about other investment or acquisition opportunities.
Speaking to this news service, Floyd said the current acquisition talks centred on unnamed targets active within the telesales industry and the hospitality space. Referring to the former, he said this company would be bolted onto Chigwell Group's Bi-fold Doors and Windows operation. Regarding the hospitality offering, the MD said the plan was to diversify operations to remain one step ahead of another economic downturn.
Despite the ongoing talks, the executive said he would be interested in hearing about other investment or acquisition opportunities, with the prime focus on core construction products and services fields. He cited as an example that it could be interested in purchasing a company involved in the underground servicing space, such as those that connect utility pipes and connectors between new building projects and the national grid.
"I'm always looking at opportunities, looking at something that excites me," the MD said. "I'm interested in the business (Chigwell Group) becoming a one-stop shop (for the household construction industry)… we are looking to work with developers who build 2,000 to 3,000 units per year."
Sector players generating up to GBP 10m in turnover and located in London, Essex or Hertfordshire would be of interest. Any transaction would need to be for a profitable company, Floyd added.
According to its website, Chigwell Group's activities include planned maintenance, kitchens and bathrooms, voids refurbishments, refurbishment projects and new build projects. Its customers include housing associations, local authorities and private clients.
Although the company does see acquisitions as a cornerstone in its future development, Floyd acknowledged that he could take a pause from the M&A field at a later date. With the company already completing three bolt-ons this year, he said these needed to be fully integrated into the wider group at some point.
Past transactions include the April-dated purchase of Brentwood Windows and Doors, since renamed Chigwell Bifold Doors and Windows, as well as the June deal for a 45% stake in construction and civil engineering provider CLC Utility Service. CLC's founder and MD Tony Jupp holds another with 45%, while Alan England, managing director of its southern England operation, the remainder.
Both transactions were concluded for undisclosed sums.
Targets are found via contact from corporate advisors and business owners.
Due diligence matters would be handled internally and via its external auditor Brian G Lonis and Co. Chigwell Group banks with HSBC and Nat West. Past deals have been paid for via operational cash flow. The company is debt free.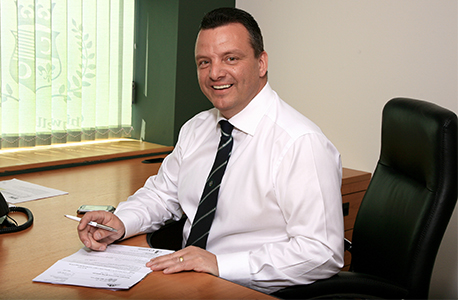 Organic growth
Aside from inorganic growth, Floyd pointed to his company's strong organic pipeline. Chigwell Group is presently tendering for more than GBP 50m worth of contracts, which if successful would bolster the company's revenue toward the GBP 100m mark. He added that a number of these contracts were long-term offerings, which would give the company a solid base to continue its growth.
Floyd said Chigwell's group of companies expects to record turnover of around GBP 45m during the current financial year. In 2010, turnover amounted to around GBP 6m, according to the MD.
"We are very hands on… we are always learning," was how Floyd summarised the company's strong year-on-year growth pattern.
Looking ahead, the current plans involve Floyd and his management team continuing to expand Chigwell Group. He would look to bring his son into the company at a future point to be groomed as his successor.
"If my son comes into the business, then I definitely won't sell. If my son is uninterested in it, then maybe I could sell out in 10 years," he concluded.
Chigwell Group's head office is in Hainault, Essex.
Article written by Lloyd Vassell, Journalist