As part of its commitment to continuous Improvement and added value, Chigwell Construction launched its own Builders Merchants, Aaron Building Supplies Ltd, in December 2013. This follows an expansion of the neighbouring industrial unit at its head office in Hainault and provides an extensive stores facility manned by Chigwell's storeman, Jason Bliss, who comments: The facility is impressive and allows us to provide common materials in an efficient way to our operatives, while monitoring the volume of materials used for cost control purposes. Dean Floyd, Managing Director comments: We have been considering this for some time now as a way of maximising efficiencies, particularly in relation to the responsive repairs contracts we service. It saves our operatives travelling to and queuing in builders merchants and the clients that have visited this facility since it was opened have all been impressed.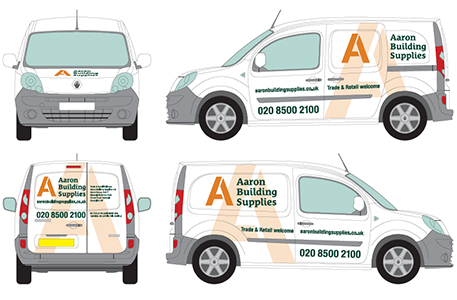 Brand-ing have designed our identity, website, signage, vehicle livery and stationery. As part of the Chigwell Group of Companies the design needed to sit comfortably with the other Chigwell brands and therefore adopts the same colour scheme and logotype.
Please go to aaronbuildingsupplies.co.uk to see what types of products they supply and deliver to the trade and general public. We will update this post once all the new signage has been installed.